Post-surgery rehabilitation

Athelete screening to prevent injuries

Ergonomic workplace assessments
Repetitive strain injuries
Tendonopathy and tendon loading problems

Gait analysis and orthotics
…and many more. Please contact us to discuss any conditions not listed here.
Massage – soft and deep tissue techniques

Joint manipulation and mobilisation – to reduce pain and stiffness

Mobility programs and specific muscle activation relearning

Customised exercise programs to strengthen muscles and improve mobility
Dry Needling (similar to acupuncture)

Assistance with the use of aids (splints and crutches)

Education (injury prevention, home exercise and rehabilitation programs)
BaiMed Physiotherapists are highly-trained, dedicated and focused on the physical wellbeing of our patients. Old or young, active or not, we provide treatment options for chronic pain, musculoskeletal disorders and acute injury rehabilitation.
Did you know the most common form of vertigo Benign Paroxysmal Positional Vertigo also known as BPPV can be treated in under 10 minutes by a trained physiotherapist?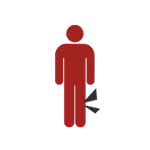 An Anterior Cruciate Ligament or ACL injury is one of the most significant injuries an athlete can sustain. The key to a successful return to sport is a thorough and precise rehabilitation.